May 7 2022 04:00 pm - 10:00 pm
Carolina Bauernhaus Greenville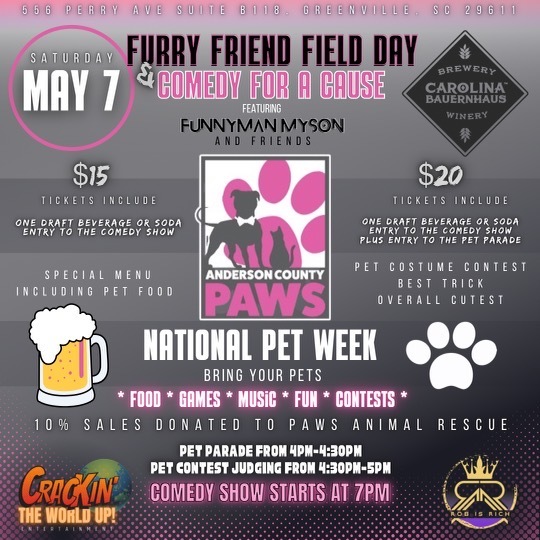 National Pet Week is May 1 -7, and Carolina Bauernhaus Brewery & Winery wants to celebrate your pet with you! Join them and Crackin' the World Up! Comedy for a fundraising field day at the Poe West Development in the Village of West Greenville starting at 4 PM with a Pet Parade, where Poe West's tenants will be offering up "Doggy Bag" specials along the way -- and judging the pet parade contest!
Dress your pet in their finest (or silliest) to enter the Best Costume and Overall Cutest contests, and get ready to perform for the Best Trick contest after the parade. Judging will take place from 4:30 til 4:50, and winners will be announced at 5:00 PM. Bocce ball, cornhole, giant Jenga and foosball will all be available for your enjoyment.
Gourmet Hot Dogs for you and specialty treats for your pups will be on the menu, along with locally sourced, seasonal craft beers, all day long! Comedy show presented by Crackin' the World Up! Comedy & Funnyman Myson starts at 7:00 PM.
$15 Ticket includes one draft beverage or soda + entry to 7 PM Comedy Show
$20 Ticket includes one draft beverage or soda + entry to pet parade & contest + 7 PM Comedy Show
10% of sales will be given to PAWS Shelter. Anderson County PAWS' mission is to help pets in need through sheltering, adoption, education, spay/neuter, and community outreach.