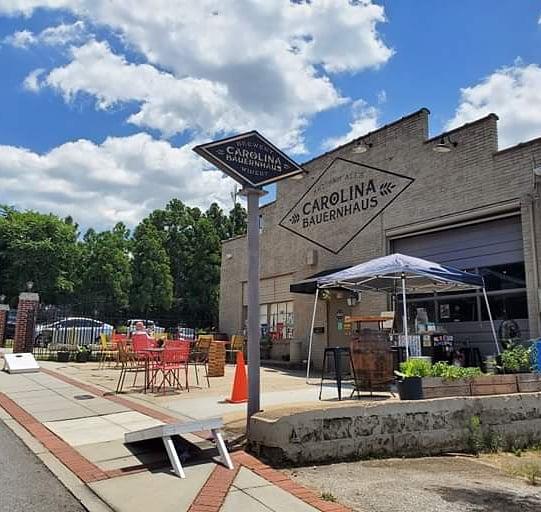 Carolina Bauernhaus Anderson
115 Federal Street, Anderson, SC, USA
864.401.8167
2PM – 9PM Monday
Closed Tuesday
5PM – 9PM Wednesday
5PM – 9PM Thursday
2PM – 10PM Friday
12PM – 10PM Saturday
2PM – 8PM Sunday
On Tap
Flight of four 4oz pours - $10
1. My Finest Exoskeleton 5.8%

Rye Pale Ale


4oz Taster - $3.50
16oz Draft - $6.50
2. Lemon Radler 2.5%

Blend of beer and lemonade


4oz Taster - $3.50
16oz Draft - $5.50
3. Brett Farmhouse Ale 5.8%

Farmhouse Ale


4oz Taster - $3.50
16oz Draft - $6.50
4. Upstate Brewers Alliance IPA 7.1%

Southern IPA


4oz Taster - $3.50
16oz Draft - $7.50
5. Drop Bear Attack! 4.8%

Hazy pale ale with Galaxy and Pacific Jade hops


4oz Taster - $3.50
16oz Draft - $6.50
6. Festbier 6.3%

Golden Ale


4oz Taster - $3.50
16oz Draft - $6.50
7. Federal St Porter 6.5%

Robust American Porter


4oz Taster - $3.50
16oz Draft - $6.50
8. Nacht 10.2%

Belgian style imperial stout


4oz Taster - $3.50
12oz Draft - $7
9. Petite Cider 4.0%

Sessionable Dry Cider


4oz Taster - $3.50
16oz Draft - $6.50
10. Barbie Cider 4.5%

Hard cider made with hibiscus & cherries


4oz Taster - $3.50
16oz Draft - $6.50
11. Haus Kombucha 0%

Haus kombucha


4oz Taster - $3.50
16oz Draft - $6.50
12. Root Beer 0.0%

Haus Made Non Alcoholic Root Beer


4oz Taster - $3.50
16oz Draft - $5
13. June Princess 6.2%

Barrel aged sour rye saison with locally foraged nectarines


4oz Taster - $3.50
12oz Draft - $7.50
14. Source Series Opuntia 6.2%

Barrel aged sour rye saison with heirloom rye malt & locally foraged opuntia fruit.


4oz Taster - $3.50
12oz Draft - $7.50
15. Whiskey Sour 4.5%

Golden sour ale aged on lemons, limes, & oak staves


4oz Taster - $3.50
16oz Draft - $6.50
16. Walhallapeno 4.5%

Golden sour ale with Jalapeños


4oz Taster - $3.50
16oz Draft - $6.50
Red Wines
Cabernet Sauvignon 13.5%


A full-bodied wine, displaying enticing aromas of black currant, toasty oak, and a hint of vanilla.

Pinot Noir 13.5%


Pinot Noir is a gorgeously fruity expression of the romanticized grape. It begins with a sweet bouquet of cherry pie and a hint of savory herbs. It opens to rhubarb, black cherry and clove, followed by a brisk finish.

White Wines
Buttery Chardonnay 14.5%


Buttery Chardonnay is a rich, buttery portrayal of this classic varietal. Layers of toasted oak, butterscotch and honey combined with a creamy texture and color as radiant as the new dawn, create a one-of-a-kind sensory experience.

Moscato 9%


Moscato is a sweet, lively white wine with a light, crisp acidity. Tropical aromas of pineapple and orange blossom meet highlights of juicy peach, honey and lemon zest for a perfectly refreshing finish.

Pinot Grigio 12.5%


Pinot Grigio is fresh and fruity and delivers juicy, medium-bodied flavors of white peaches and citrus, with a clean, refreshing finish laced with pineapple and floral notes. Serve chilled.

Menu
Charcuterie Board

A collection of cured meats, cheeses, seasonal pickles, multigrain and toasted crackers, haus mustard and local jam.


Small Board - $9
Large Board - $20

Hummus & Pimento Plate

Local hummus & pimento cheese served with seasonal veggies and multigrain and toasted crackers.


Chips, Cheese & Salsa

Tortilla chips served with salsa and haus beer cheese


Chips & cheese - $5
Chips & salsa - $5
Chips & cheese & salsa - $7

Soft Pretzel

Warm soft pretzel served with beer cheese sauce and haus mustard


Haus Bratwurst

A brat on a hoagie bun with haus beer cheese, sauerkraut, and haus mustard.


Bratzel Bowl

A bowl of pretzel bites topped with a sliced brat, haus beer cheese, sauerkraut, pickles, and haus mustard!


Haus Pickle Board

A fermented assortment of seasonal, locally sourced haus made pickles

Haus Kombucha




Can of Soda

Coke, Sprite, Diet Coke


La Croix Sparkling Water

It's like water, but sparkling