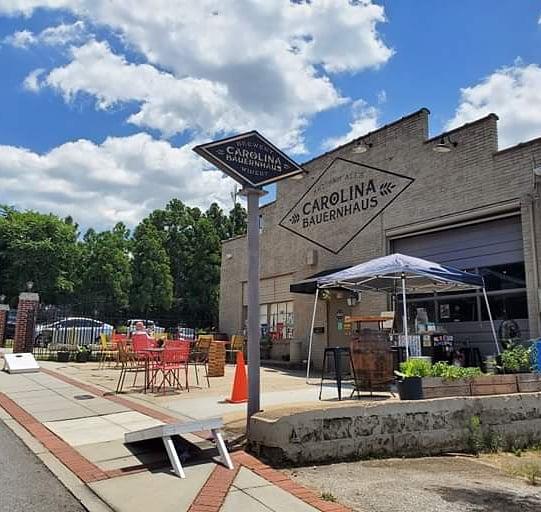 Carolina Bauernhaus Anderson
115 Federal Street, Anderson, SC, USA
864.401.8167
---
Hours
Monday 6PM — 11PM
Tuesday 6PM — 11PM
Wednesday 6PM — 11PM
Thursday 4PM — 11PM
Friday 4PM — 12AM
Saturday 12PM — 12AM
Sunday 12PM — 8PM
1. Caterpillar Kolsch 4.5%

Kolsch style ale with kaffir lime leaves & lemongrass


4oz Taster - $3
16oz Draft - $5
2. Wilburs Standard 4.5%

English mild made with regional malts


4oz Taster - $3
16oz Draft - $5
3. FRIPA 6.5%




4oz Taster - $3
16oz Draft - $7
4. Old Newark 6.2%

Early American IPA made with local six row barley & malted corn


4oz Taster - $3
16oz Draft - $6
5. Sowin Oats 6.5%

English IPA with locally malted Graham oats. Collab with Revelry Brewing Co, Charleston SC


4oz Taster - $3
16oz Draft - $6
6. No Sleep 'Til Brewklyn 8.9% Coffee Porteer, Good Times Brewery - Greenwood SC


4oz Taster - $3
12oz Draft - $6
7. Blue Marvelous 2.9%

Kvass style ale with local bread


4oz Taster - $3
16oz Draft - $6
8. Screw Yuzu 9.2%

Golden strong ale with yuzu fruit


4oz Taster - $3
12oz Draft - $5
9. EvolutionALE 5.2%

Gluten free Pale ale made with malted millet, rice, and corn


4oz Taster - $3
16oz Draft - $6
10. Keowee 7.2%

Barrel aged sour red ale with a blend of locally foraged & dried mullberries


4oz Taster - $3
12oz Draft - $7
11. Nacht 10.2%

Belgian style imperial stout


4oz Taster - $3
12oz Draft - $7
12. 18 Mile Red Grand Cru 7.2%

Barrel Aged Sour Red Ale


4oz Taster - $3
12oz Draft - $7
13. Bauern To Barrel 4.8%

Wheat ale with blueberries & botanicals brewed in collaboration with Botanist & Barrel


4oz Taster - $3
16oz Draft - $6
14. Whiskey Sour 4.5%

Golden sour ale aged on lemons, limes, & oak staves


4oz Taster - $3
12oz Draft - $5
15. Source Series Opuntia 6.2%

Barrel aged sour rye saison with heirloom rye malt & locally foraged opuntia fruit.


4oz Taster - $3
12oz Draft - $7
16. Walhallapeno 4.5%

Golden sour ale with Jalapeños


4oz Taster - $3
12oz Draft - $7
17. Malbec Cider 6.0%

SC apple cider blended with Malbec grape must from Cityscape Winery


4oz Taster - $3
12oz Draft - $5
18. Dutch Gold 5.5%

Session Mead


4oz Taster - $3
12oz Draft - $5
19. Upcountry Bubbly 12%

Sparkling mead with local honey and pinot noir grape must. Collaboration with Good Times Brewing and City Scape Winery


2oz Taster - $3
5oz Draft - $7
Red Wines
1. Cabernet Sauvignon 13.5%


This is not your typical Cabernet. In true Big House® fashion, we rejected the idea that we had to make a traditional and expected oaky cab. Instead, we did what we do best—created a mouth-watering wine like no other. Its notes of rich, black currants and hints of mocha lead into dark berries and plums

White Wines
2. Moscato 9%


A crisp, refreshing blend of juicy peaches and sweet apricots, Barefoot Moscato combines lush, fruity aromas with a bright, crisp finish that is sure to please any crowd. Finished with a tantalizing twist of lemon and citrus, Barefoot Moscato pairs seamlessly with everything from artisanal cheeses to light desserts.

3. Sauvignon Blanc 12.5%


Stone fruit, fresh peach and floral notes unfold into refreshing citrus flavors and a crisp acidity. Black Box Wines Sauvignon Blanc has herbaceous undertones with a clean, dry finish.

1. Grape Ginger Kombucha

Kombucha from Blue Ridge Brinery in Anderson, SC


2. Nitro Cold Brew

Cold brewed coffee made with beans from Silva Coffee in Clemson SC


3. Prickly Pear, Lemon, Lime & Aloe Soda

Made with local Timonade lemonade


4. Can of Soda

Coke, Sprite, Diet Coke, or IBC Root Beer

Updated February 21 2020 04:38 pm