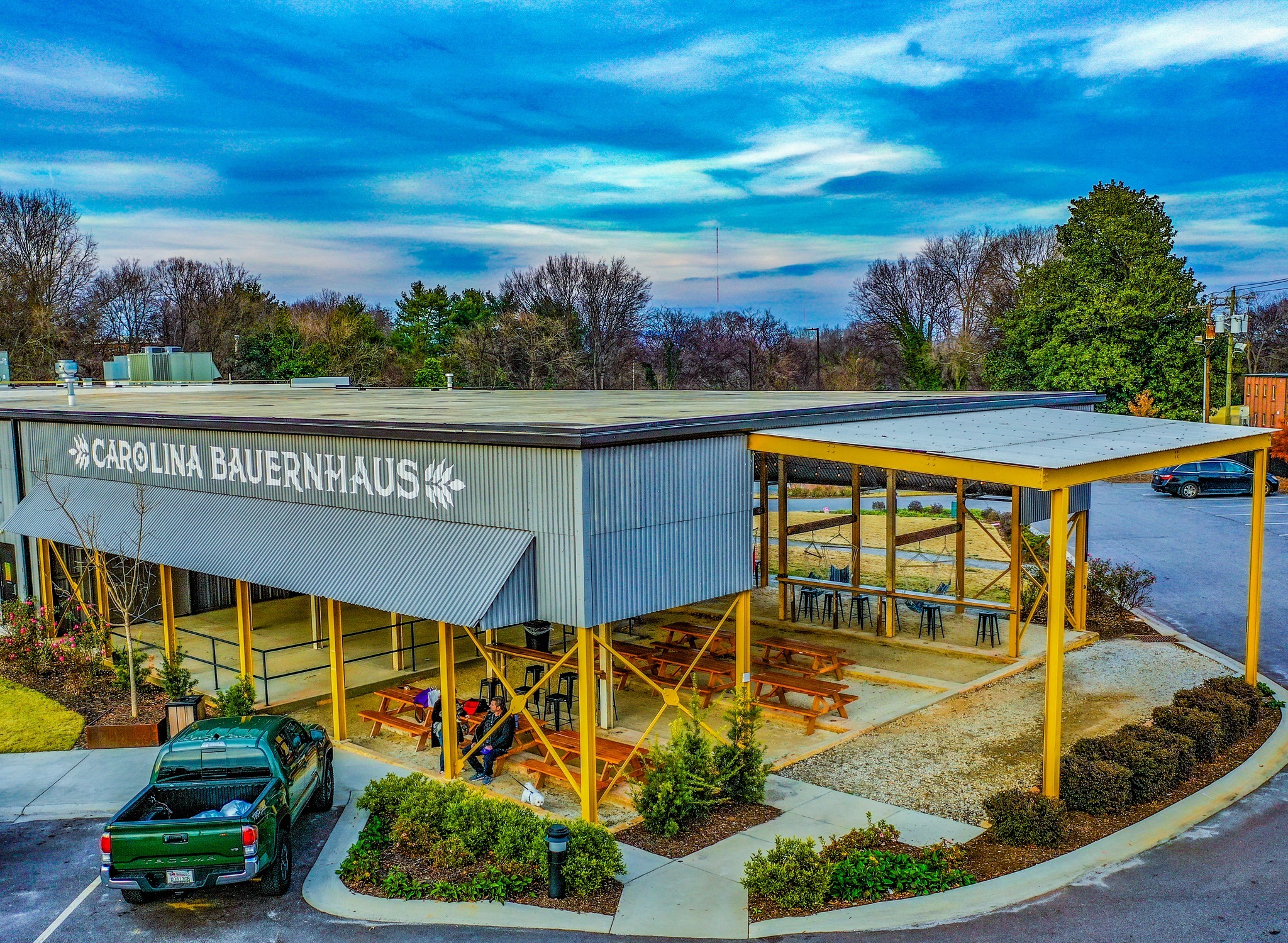 Carolina Bauernhaus Greenville
556 Perry Avenue, Greenville, SC, USA
864.263.3389
Closed Monday
Closed Tuesday
12PM – 9PM Wednesday
12PM – 9PM Thursday
12PM – 10PM Friday
12PM – 10PM Saturday
2PM – 8PM Sunday
On Tap
1. Apfel Cyzer 7.0%

Dry cider fermented with honey

2. My Finest Exoskeleton 5.8%

Rye Saison

3. June Princess 6.2%

Barrel aged sour rye saison with locally foraged nectarines

4. Walhallapeno 4.5%

Golden sour ale with Jalapeños

5. Your Table is Ready 3.5%

A 3.5% historic ale featuring the flavors of local malted barley and heirloom farro, as well as benne and purple straw wheat, preserved and made available by Anson Mills. 

6. Apfel Cyzer 7.0%

Dry cider fermented with honey

7. Apfel Cyzer 7.0%

Dry cider fermented with honey

8. Apfel Cyzer 7.0%

Dry cider fermented with honey

9. Robot Pants 6.5%

Dry Hopped Golden Ale

10. Haze is a Four Letter Word 7.0%

Hazy IPA

11. FRIPA 6.5%

Farmhouse Rye IPA made with local barley and rye

12. Whiskey Sour 4.5%

Golden sour ale aged on lemons, limes, & oak staves

13. Corn Star 4.7%

Light Ale with corn

16. Screw Yuzu 9.2%

Golden strong ale with yuzu fruit

Red Wines
Cabernet Sauvignon 13.5%


A full-bodied wine, displaying enticing aromas of black currant, toasty oak, and a hint of vanilla.

Pinot Noir 13.5%%


Features enticing aromas of strawberry and red cherry with complementary notes of toasty oak. Fresh berry and cocoa flavors lead to a delicate, lingering finish.

White Wines
Chardonnay 13.5%


A full-bodied, dry, juicy white wine with pear and pineapple and a long, toasty finish.

Moscato 9%


California- Sweet with delicious mouth-watering flavors of juicy peach and apricot. Hints of lemon and orange citrus complement a crisp, refreshing finish. Serve with appetizers and light entrees or after dinner with fruit and cheese.

Pinot Grigio 13%


This Pinot Grigio offers lively aromas of white peach, nectarine, light floral and hints of lime.

Menu
Soft Pretzel

Warm soft pretzel served with beer cheese sauce and haus mustard


Charcuterie Board

A collection of cured meats, cheeses, seasonal pickles, multigrain and toasted crackers, haus mustard and local jam.


Large Board - $20
Add a free range pickled egg - $1
Small Board - $9

Haus Pickle Board

A fermented assortment of seasonal, locally sourced haus made pickles


Hummus & Pimento Plate

Local hummus & pimento cheese served with seasonal veggies and multigrain and toasted crackers.


Chips, Cheese & Salsa

Tortilla chips served with salsa and haus beer cheese


Chips & cheese - $5
Chips & salsa - $5
Chips & cheese & salsa - $7

Bratwurst

All pork brat from Revival Butchery served on a toasted bun


Beyond Brat

100% plant based protein, gluten and soy free, non GMO on a toasted bun


Bratchos

Your choice of Brat chopped up on top of tortilla chips and salsa


Bratzel Bowl

A bowl of pretzel bites topped with a sliced brat, haus beer cheese, sauerkraut, pickles, and haus mustard!

Haus Kombucha

Locally made kombucha handcrafted by Blue Ridge Brinery in Anderson, SC


La Croix Sparkling water

It's water, but sparkling!


Soda

It's that famous stuff you know from Atlanta, GA


Coke 12oz - $2
Diet Coke 12oz - $2
Sprite 12oz - $2