June 24 2023 12:00 pm - 03:00 pm
Carolina Bauernhaus Greenville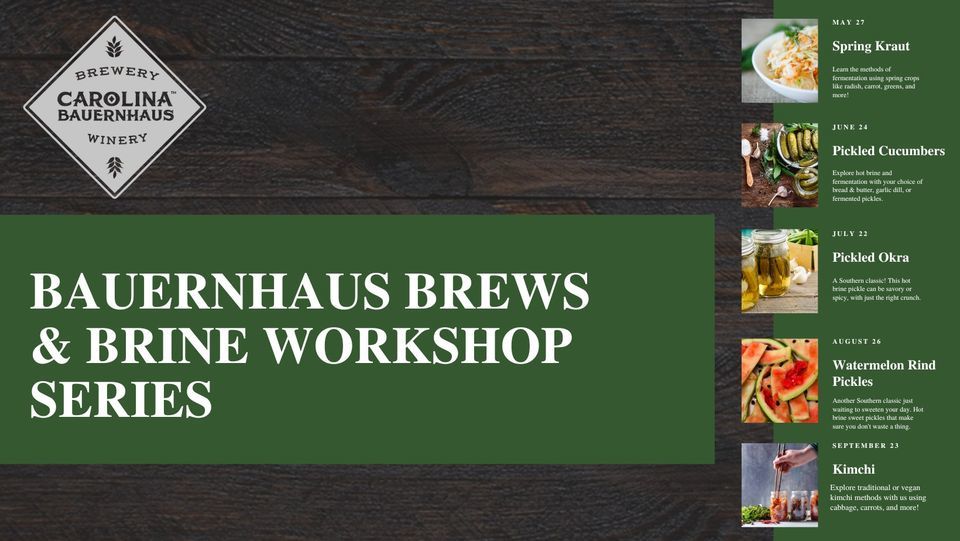 Our cucumber pickle workshop is an overview of bread and butter, garlic dill, and fermented kosher pickles, using local ingredients. Chief Flora Farmer and Brewer David, joined by Flora Farmer Casey, will guide you through prepping, picking, and storing your pickles for a delicious end result. Each class covers one pint jar, chosen ingredients, recipe, and a beverage of your choice. (21+ ID to drink alcohol)
Meet your instructors :
David Thornton is a bioprocess engineer with 10 years experience in biofuels and brewery design. David has constructed 26 biodiesel and ethanol facilities worldwide and launched several brewery related businesses providing essential brewing ingredients to breweries in the southeast. Additionally, David coordinated the sustainable biofuels program at Clemson University and has taught the science of beer for over 3 years. He has offered pickling and fermenting workshops for the past 5 years through the brewery.
Casey Certain owns and operates the Reid Homestead with her husband, David Thornton, to provide pickles, jam, and ingredients for beers, ciders, and meads at the brewery. She has offered food education through the non-profit the Oconee Cultivation Project since 2016, and has helped facilitate the brewery's pickling and jam making classes for the past 5 years.