October 8 2021 08:00 pm - 12:30 am
Carolina Bauernhaus Greenville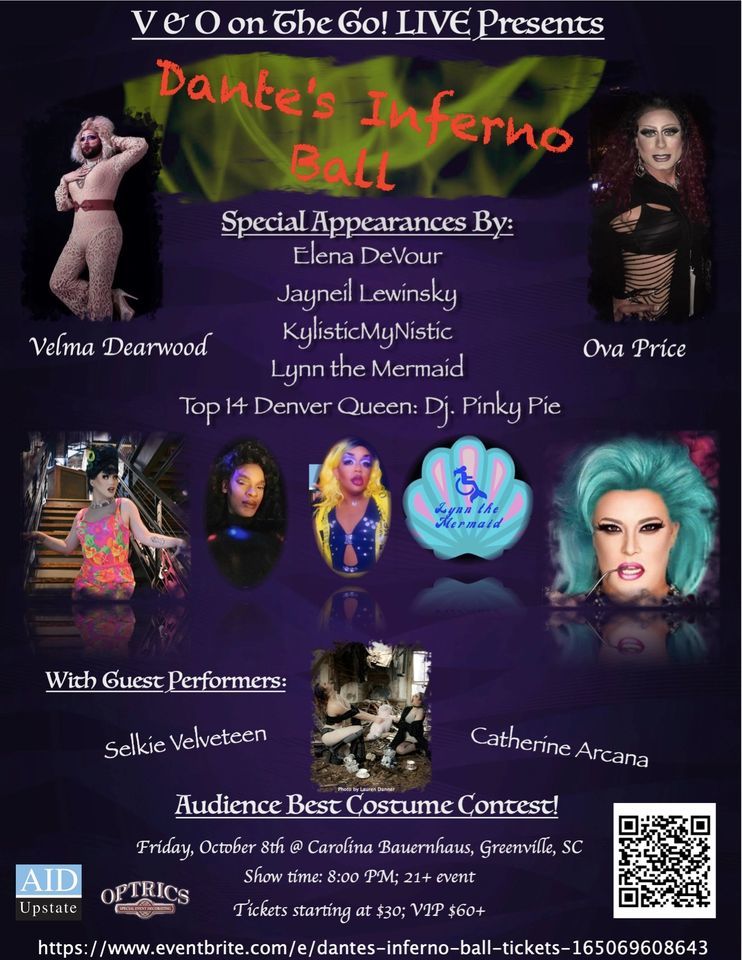 Queens Velma Dearwood and Ova Price are bringing the entertainment to you to kick off the spooky season with Dante's Inferno Ball.
Performances by Columbia's favorite glam queen Miss Elena DeVour, Greenville's dancing doll Miss Jayneil Lewinsky and fabulous mystic KylisticMyNistic.
Velma and Ova searched near and far to include Greenville's elusive aquatic pearl splasher Lynn the Mermaid, and high on the mountain tops of Denver for Drag DJ Milehigh Pinkypie.
They're even bringing back the Bauern's favorite jaw-dropping ariel artists, Selkie Velveteen and Catherine Arcana to demonstrate a gravity defying performances.
Audience participation for best costume contest includes up to $50 cash prizes. The two hour production will transform the Carolina Bauernhaus into an elegant facade with multidimensional ambiance to mesmerize guests for an evening of enchantment.
*General admission guests have the option to reserve a space for seating on a first-come basis. Guests are encouraged to arrive early to ensure an optimal experience. General Admission tickets are sold at $25 per person with a wristband upon arrival.
**VIP access provides an all inclusive experience in this seated section. Each VIP guest will receive a gift bag courtesy of AID Upstate, 1 (one) small charcuterie board, and access to VIP bar that includes 2 (two) drink tickets. VIP guests will experience up-close and personal interaction with the performers on the main platform in the pavilion. VIP access starts at $75 per person and will receive a designated wristband upon arrival.
Dante's Inferno Ball would not be possible without the following sponsors: AID Upstate, Optrics, and Upstate College of Cosmetology.