December 7 2023 06:00 pm - 09:00 pm
Carolina Bauernhaus Anderson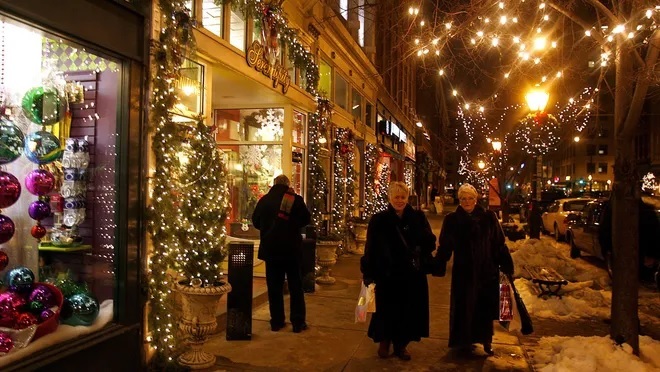 Shotgun Start at 6pm: check your online ticket confirmation e-mail
for your starting location & walking map
5 Stops of gourmet Euro-Holiday food courses with Wine, beer, mocktail pairings * take home dessert Confections
$75 per person (plus 9% sales tax, 20% gratuity, & credit card processing fee)
Participating Restaurants/Businesses:
* McGee's Scot-Irish Pub: 116 W Orr St
(Seared Scottish Salmon/Scalloped Potatoes)
* Carolina Bauernhaus Brewery & Winery:115 Federal St
(German Brat Sliders – Charcuterie – Beer Cheese Dip)
* The Kitchen Emporium Gifts & Wine Bar: 418 N Main St
(Pinxtos from the Basque region of Spain)
* The Bradbury Bistro: 502 N Main St, Ste A
(Classic Coq Au Vin)
* Ionosphere Travel & Tours: 307 N Main St
(Savory Italian Herbed Meatballs & Bread)
* Mary's Nuts & Such: 1.864.314.2981
(Assorted Confections Take Home Dessert
How it works: Find your assigned starting location by checking your online ticket confirmation e-mail & follow the dining map on the timing schedule below.
1. Start 6:00pm (6:30pm on to next locale)
2. 6:45pm (7:15pm on to next locale)
3. 7:30pm (8:00pm on to next locale)
4. 8:15pm (8:45pm on to next locale)
5. 9:00pm End (9:30pm)
Participating dining locations will present you the European Holiday classic dish representing their restaurant's or business's focal country. Each dish will be paired with an appropriate glass of wine, beer, or mocktail* (*mocktails will be available at every location for the non-drinker)
Additional purchases of drinks by the glass, gifts, bottles of wine & other retail items are available at every location.
What if we get off track with time schedule or stop out of restaurant order? No worries, you won't be turned away. Get back on track as best you can. Just remember service time ends at all locations at 9:30pm.
Fine Print
• Tickets are non-refundable after Nov 30th
• Unused tickets may be redeemed for 20% discount of $100 or more at each participating location or business (except Ionosphere Travel & Tours) through Dec 31st.
• Additional food & beverage purchases are available at each location, but please be aware of timing for your next stop.
• Yuletide Dinner Crawl will take place rain or shine. Please dress weather appropriate.