December 16 2023 08:00 pm - 08:00 pm
Carolina Bauernhaus Greenville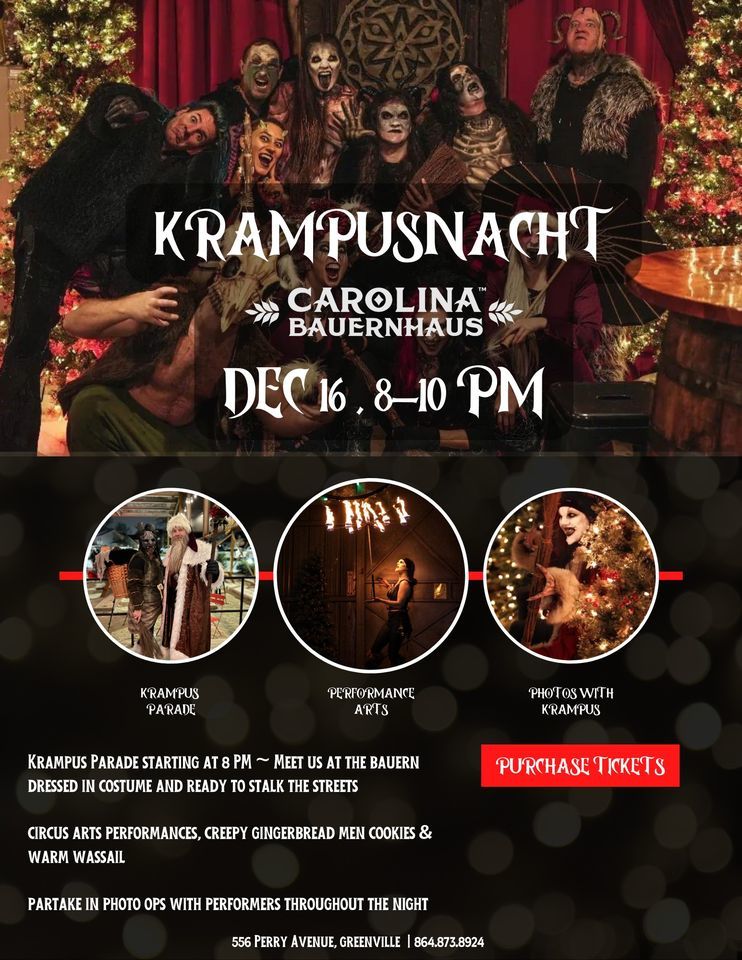 Carolina Bauernhaus Greenville will be taken over by the chilling spirit of Krampus, and the village of West Greenville is set to witness a night of terror on Saturday, December 16th. The clock strikes 8 PM and Krampus, along with his army of elves, will be prowling the streets, waiting to pounce on any unsuspecting prey. Are you brave enough to join in on the fun? If so, make sure to don your Christmas best or Krampus-esque attire and arrive at the brewery by 7:50 PM.
But beware, once you enter the Bauernhaus, there's no turning back as the spellbinding Selkie Velveteen takes the stage to lead a haunting performance. Your disturbing narrator will guide you through the story of a young girl who failed to make the "Nice" list this year. Demented sugar plum faeries and Jack Frost make her mind spin before her fate is determined by none other than Krampus.
If you're feeling peckish during the performances, ghoulish gingerbread cookies and Bauernhaus Brats & Brine menu are available to satisfy your hunger. The brewery offers a variety of hyperlocal beers, ciders, and wine selections to quench your thirst. Don't miss out on this bone-chilling opportunity to experience Krampusnacht at Carolina Bauernhaus in Greenville. The event promises to be a unique and exciting way to celebrate the holiday season.
St. Nicholas' Angels tickets cover cost of entry for the performance, and do not include beverage or food.
Krampus' Minions tickets cover entry, Krampus Goblet + Fill, and a ghoulish gingerbread man.
Thank you for supporting our local performers by purchasing your tickets ahead of time. We can never predict what events sell out, so please don't wait to purchase at the door. We'd hate to have to turn you away.