May 5 2023 05:00 pm - 10:00 pm
Carolina Bauernhaus Greenville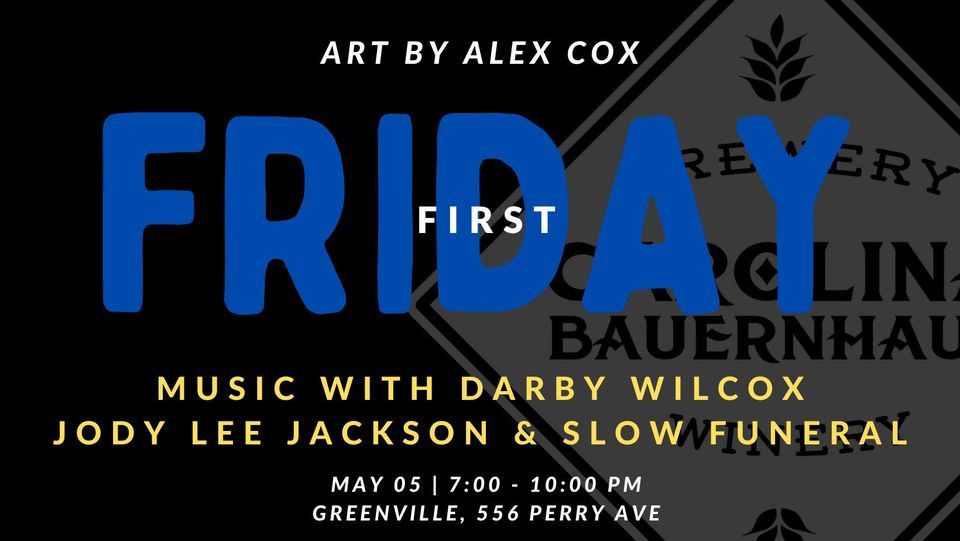 Join artists Alex Cox and Nat Morris, as well as musicians Darby Wilcox, Slow Funeral and Jody Lee Jackson for First Friday in May at Carolina Bauernhaus. 16 beers, ciders and nonalcoholic beverages sourced from local farms and malthouses, plus woodfired pizzas will be on the menu!
View this month's newest art installation, with select pieces available for purchase.
More about your artists:
Alex grew up in the small town of Andrews, SC. He draws inspiration from nature, agriculture, and the surrounding landscapes of the lowcountry. Later earning a BFA from Clemson University ,his focus turned towards sculpture and mixed media. His body of work has matured into an extensive exploration of simple shape, cellular in form. This signature theme has been the focus of his creativity for over two decades now.
More about your musicians:
Darby Wilcox - Dynamic Americana/Indie/Alt Country. Darby Wilcox is a singer/songwriter from Greenville, SC with influences like Joss Stone, Norah Jones, and Janis Joplin. Darby uses her music to pull her own truth through the listener's mind.
Jody Jackson is a singer songwriter from Lexington, SC whose music reminisces that of artists like Phoebe Bridgers, Faye Webster, and some influence from the Beatles and Joni Mitchell. Jody started performing live in 2017 and has since played numerous shows in the Columbia, SC area since. Jody's sound brings sweet ethereal melodies accompanied with melancholy lyrics that allow you space to feel something raw; echos of emotional truth.
Slow Funeral is the alias of South Carolina-based musician Mary Norris, who previously became known locally for fronting indie rock band Salti Ray. After the band dissolved in 2022, Norris set out to redefine herself and her sound through abraded lyrical and musical vulnerability. Her sound is a marriage of her 90s influences, such as Radiohead, Jeff Buckley, and Alice and Chains, paired with her Americana roots, such as Jason Isbell. Slow Funeral's live performances have been making early impact, having already shared the stage with acts like Slothrust and owen. Slow Funeral is currently working on their debut album after being awarded a community grant through Chapman Cultural Center (title and release date TBD).