June 26 2021 12:00 pm - 01:00 pm
Carolina Bauernhaus Greenville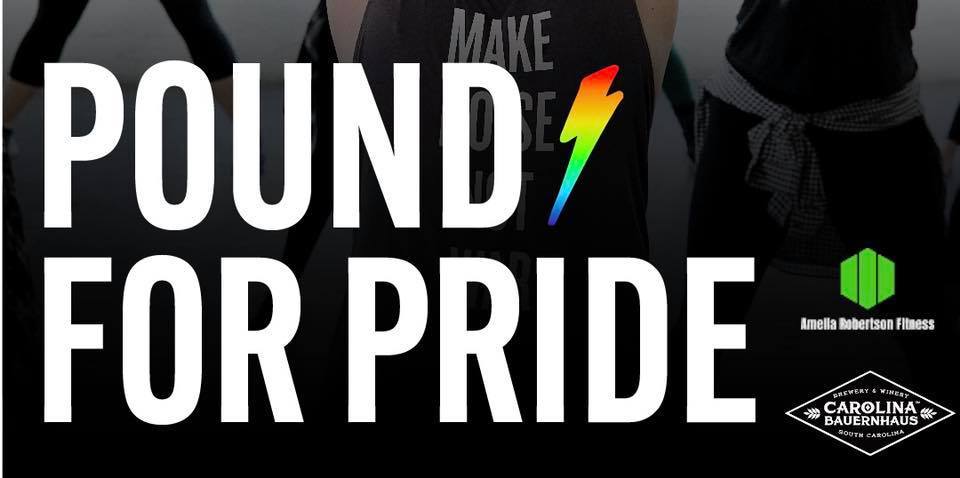 We are LOUD and PROUD!
Amelia Robertson Fitness presents
** POUND for PRIDE**
It's time to POUND, get LOUD, and drink it DOWN!
POUND is for all ages and all fitness levels! There are no mistakes only drum solos!
-Event starts at 12:00pm and lasts until 1:00pm
-It is first come first serve, make sure to arrive at least 20 minutes
early to get your Ripstix and secure your spot. When the Ripstix are gone the event will be sold out.
-Want to bring your own Ripstix to secure your spot!? You can find them here: https://shop.poundfit.com/shop/ripstix/
-Admission is $10 -CASH ONLY- which includes a complimentary Bauernhaus draft beer or soda.
-This event is open to all ages (under 21 must be accompanied by an adult) must be 21+ to consume alcohol. Please make sure to bring your ID.
-Make sure to bring lots of water (you will need it!)
-You may bring your own Yoga mat for Kit tracks (where we sit on the floor) if you would like to. We will have a few extras available as well.
Feel free to stay and hangout with us afterwards to sample some of the many beverages Bauernhaus has to offer!
For more information about POUND you can visit https://poundfit.com/
also feel free to send us a message with any questions.
GET READY TO ROCK OUT WORKOUT!