May 20 2023 12:00 pm - 02:00 pm
Carolina Bauernhaus Anderson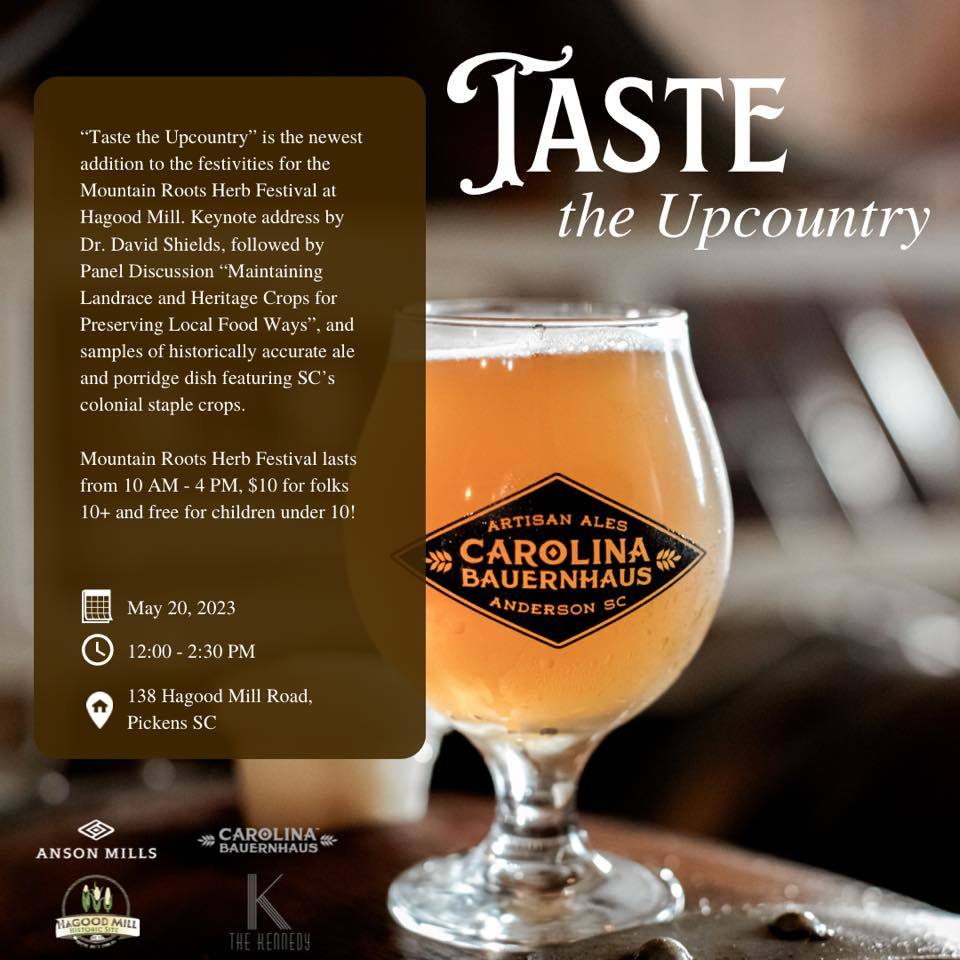 "Taste the Upcountry" Added to Mountain Roots Herb Festival at Hagood Mill
Event will feature panel discussions, a keynote address and a specially brewed, historic beer paired with an heirloom grain dish
Dr. David Shields, Carolina Bauernhaus Brewery & Winery, Hagood Mill, and David Moore, Director of Operations for the Cribbs Hospitality Group, are proud to present "Taste the Upcountry," a tasting event featuring the flavors of local malted barley and heirloom farro, as well as benne and purple straw wheat, preserved and made available by Anson Mills.
"Taste the Upcountry" is the newest addition to the festivities for the Mountain Roots Herb Festival at Hagood Mill. Dr. David Shields will be delivering a keynote address from 12:00 - 12:30 PM. Following that, he will join our Panel Discussion "Maintaining Landrace* and Heritage Crops for Preserving Local Food Ways" beginning at 12:45 PM.
Join us after the discussion for a brief tasting of 2 oz. samples of this 3.5% ABV historic ale and dish prepared using the heirloom grains provided by Glenn Roberts of Anson Mills especially for this collaboration and event. Free samples to those 21+ will be available from 1:45 - 2:30 PM.
"These samples give a glimpse of food and beverage that would have been made with regional grains in South Carolina's history. Using colonial brewing processes, our collaboration team created a cereal mash and degelatinization of the raw grains, then mashed with malted barley to provide the enzymatic diastatic power to transform the starches into sugars that are then metabolized by brewers yeast," David Thornton, Co-Founder and Chief Flora Farmer for Carolina Bauernhaus, said. "This historic type of ale is rich in both flavor and nutrition, while being low in alcohol. Such a beer would have been critical to early colonists to provide hydration and essential vitamins, antioxidants and nutrition. It was also an important method of preserving the nutrition of the grain for later consumption. The waste from such historic brews was then used as fodder for heritage breeds of pork and cattle."
To further exemplify the role of heirloom and landrace crops for preserving local food ways, the culinary team from The Cribbs Hospitality Group, will be preparing a porridge-inspired bite-sized tasting. We hope that this tasting will offer a glimpse into our state's history, while also sharing the rich flavors of crops once staples across South Carolina.
"Maintaining Landrace and Heritage Crops for Preserving Local Food Ways"
Moderator: Dr. Bernie Herman : Author / George B. Tindall Distinguished Professor of Southern Studies and Folklore Emeritus / University of North Carolina at Chapel Hill & Edward & Elizabeth Rosenberg Professor of Art History and Material Culture Emeritus University of Delaware
Panelists :
Dr. David Shields : Author / Professor Emeritus University of South Carolina / President of the Carolina Gold Rice Foundation, Columbia, SC
Keston Helfrich : Co-Founder / Head Brewer - Carolina Bauernhaus Brewery & Winery, Anderson & Greenville, SC
David Thornton : Co-Founder/ Chief Flora Farmer - Carolina Bauernhaus Brewery and Winery, Anderson & Greenville, SC
David Moore, Director of Operations - Cribbs Hospitality Group, Spartanburg, SC
Billy Crawford, Director - Hagood Mill Historic Site, Pickens, SC
Tickets and more information about the festival can be found at https://bit.ly/mountainrootshe....
Both the Hagood Mill Historic Site and the Hagood Creek Petroglyph Center are located three miles north of Main Street Pickens off U.S. Highway 178 or 5.5 miles south of Cherokee Foothills, Scenic Highway 11 at 138 Hagood Mill Road.
*A local cultivar or animal breed that has been improved by traditional agricultural methods